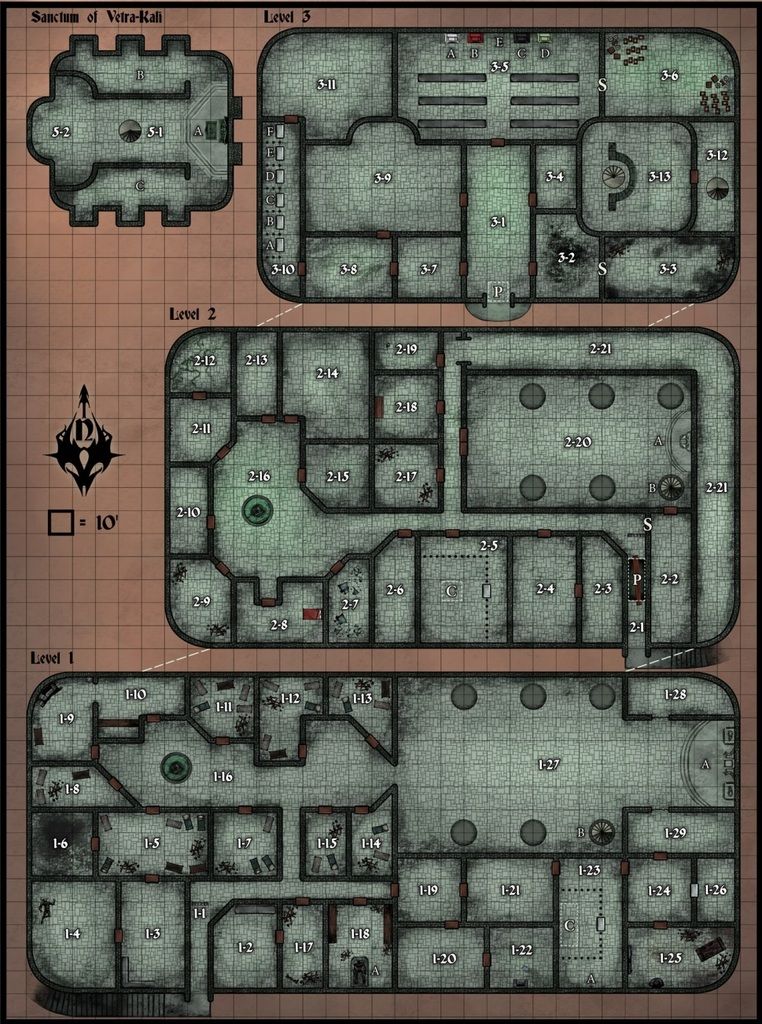 1-1 The Left Eye.
Of the four conventional ways into the Horn, this is the easiest to get to. Now that the overgrowth has been cleared away, you simply walk up a wide set of stairs a hundred feet and arrive at the landing. Clearly, this area was supposed to be guarded. There are six arrow slits on both the east and west walls. Forty feet into the passage a solid stone half-wall rises that could provide cover to two medium-sized combatants.
But all of these defensive preparations are now for naught because this entry is unattended. A close inspection reveals that this room has seen many battles. There are small nicks and traces of long dried blood everywhere in the stonework.
1-2 Eastern Guardroom.
This chamber is empty. A long stone bench built into the north wall and tell-tale broken bits of barrel wood hint that once guards holed up here, ready and provisioned to guard this entryway for prolonged periods. But now there is only emptiness and quiet.
1-3 Western Guardroom.
This is another empty guardroom adorned only by an L-shaped stone bench in the southwestern corner.
1-4 Lower Storeroom.
This room once held many months of provisions for the residents of the Horn, if perchance their temple was ever besieged. When the attack upon the Horn came, it happened so quickly no such stocks were needed.
A temple guardian, a minotaur, retreated in here during the Victor's assault and fought to the last. This minotaur had the honor of being impaled by the Victor himself using a spear taken from a fallen comrade. So powerful was the Victor's strike that the minotaur was pinned to the floor. There he remains to this day, looking as if he died yesterday. He bears upon his arm a tattoo of a white horse skull with three burning green eyes. This is the symbol of the servants of Vetra-Kali. Ezra and Halthus have either forgotten the minotaur's name, or never knew it.
As far as provisions, this room is empty, with anything not claimed by the Victor's men long ago stolen. However, a faint aura of transmutation magic does remain. Any food or drink stored here will not spoil. It is this magical effect that explains why the minotaur's corpse is in such excellent condition. The weapon pinning the corpse in place is simply a normal spear.
1-5 Pillaged Quarters
This ransacked room once quartered a dozen temple guards (with their officer enjoying the privacy of 1-6). When the temple fell, this room was ransacked and forthe last eighty years it has changed little since that time besides gaining a coat of dust and countless cobwebs. Thre is nothing of great value here, but with a little work and some new bedding, this room could again comfortably quarter a dozen men.
1-6 Blasted Room:
This room was once the quarters of a temple guard captain. This chamber gave him some privacy yet kept him close to his men. Now there is little evidence of this
room's original purpose. There is nothing here but ash, blast marks and few burned bits of refuse. A
fireball
or some other equally disastrous spell went off here eighty years ago as the Victor's retinue stormed the Horn. The blast annihilated a small group of acolytes taking refuge here. Now eighty years later, only barely identifible shards of bone and ash remain in this blasted
room to mark their demise.
1-7 Pillaged Quarters:
Once eight temple guards were quartered here. Now it remains ransacked, tossed into disarray and left to cobwebs. If searched carefully there is actually a small coin purse that was missed in the ransack. It holds 31 gp and an
elixir of truth
(already found). Otherwise the room is unremarkable.
1-8 Stone-Cutter's Quarters:
This wrecked room once housed a dozen stonecutters who labored tirelessly in this wicked place. Now it is full of broken bunks and moldering personal effects. There is nothing of value here.
1-9, 1-10 The Death's Head Tavern:
This was once a tavern used to keep their guards and servants content. The tavern is actually not in terrible shape for a building that has been abandoned for eighty years. It seems as if no battle was fought here. The Victor's men did ransack it for all its gold, food and ale, but still it remains in passable shape if it was merely cleaned and restocked. It would require 200 gp of common items from Farholde to turn it back into a working tavern.
There is a fireplace in this part of the tavern whose chimney cuts out through the solid rock of the Horn. The outer end is covered with a metal grate. The tavern also has a bar and grill.
1-11, 1-15 Servant's Quarters:
These wrecked room once housed a dozen servants of the temple. Now it is full of broken bunks and moldering personal effects. There is nothing of value here.
1-12 Guard's Barracksk:
Another wrecked room where soldiers once were quartered.
1-13, 1-14 Acolyte's Quarters:
Once acolytes of the lower temple were quartered here. Their quarters are now just as ransacked and abandoned as anywhere else. There is one thing in the northern room that is remarkable and it can be found if the room is searched – Brother Trask's journal.
One of the acolytes, Brother Zander Trask, kept a journal. The journal is frankly rather dull and poorly written. Trask was no great thinker and mostly it is a repetitive and boring record of the day to day drudgery of being a lowly acolyte of the temple. If carefully read and studied for three hours though three interesting facts can be gleaned:
Trask believed there to be something unusual about the south eastern pillar in the lower temple (room 1-27). He suspected it was hollow and had a secret door into it. (There is no secret door on this floor, but he was correct about it being hollow.)
Trask knew by rumor that two powerful daemons named Hexor and Vexor guarded the upper levels. He didn't know precisely where they were stationed, but he desperately wanted to get a look at them some day.
Trask had seen a priest (who thought no one was present) sit upon the throne in the temple and mysteriously vanish. He didn't know where the priest went but thought it very interesting.
1-16: the Lower Courtyard.
This large courtyard was once the central gathering place for the guards and servants who served the priests in the levels above. It buzzed with activity day and night. But those days are long gone. Now the place is empty, silent and dark.
The only hint of former glories is a fountain that still contains fresh water in the massive basin. The fountain's centerpiece is carved in the form of Charon on his skiff. When water is needed the skeletal figure bleeds water like blood into the basin below. The great basin of the pool holds a hundred gallons of water and when it is depleted the basin is replenished at the rate of one gallon a round. Despite the fountain's sinister appearance and the fact it was created by a pestilence-worshiping daemonic death cult, the water is clean, fresh and potable. The fountain is part of the floor of this room and cannot be removed.
1-17 Armory:
This chamber once stored the weapons and armor of the guards of the temple. Now it is empty holding little more than a few broken racks.
1-18 Alchemist's Laboratory:
This was once the Sons alchemical laboratory where their many poisons and pestilences were brewed and perfected. Wrecked during the Victor's raid, broken glassware and alchemical equipment litter the floor. There are items of interest among the junk: schematics for an alchemical golem, three ounces of
stone salve
, an intact glass reservoir, and most importantly Artephius itself (see below).
1-19 Guardroom:
Guards were once stationed here who controlled access to the holding cells and torture chambers beyond this point. But now it is abandoned and empty save for a
few broken pieces of furniture destroyed in the fighting and following ransack.
1-20 Sergeant of the Guard's Chamber:
Once the sergeant of the guard, an unpleasant fellow named Bargus Thax reigned over this block of the temple from his post here. Now it is empty.
1-21 The Trophy Room:
Once grisly trophies hung on the wall of various enemies that the "Sons of the Pale Horseman" had disposed of through the years. The actual trophies are gone,
burned in the same pyre as the Sons themselves. However, the wall is still discolored where the trophies long hung and the plaques beneath the trophies still remain. There are twelve inscriptions:
"Laedrissia the Beautiful who believed she need not honor her promises to us."
"Markhan the Golden, the draconic protector of Lossewyn. He slept then and now he sleeps forever."
"Kallister Feign, an illusionist too clever to keep his head."
"Lazarus M. Who mourns for you now?"
"King Croc, 23 feet snout to tail, delicious on a spit"
"Iris of Ghastenhall, dead from a broken heart and a poison dagger."
"The Great Serpent of Korokunga, slain for its venom."
"Lord Jurys Hallifax called the Just hid in his castle and hoped we had forgotten. We hadn't."
"Snorri Five-Axe died on a sixth."
"The ears of Lord Kelerrian. If only he had sense enough to listen."
"Chief Gorgun Sakkathet, invincible in battle, careless in choosing his cup bearer."
"Ergun Nigma, The third scion left in the House of the House Hyrhul, second greatest swordsman in the land, the fist to die."
None of the names inscribed are familiar, save the city of Ghastenhall. If the panels are closely inspected, ten of them are unremarkable. However, a DC 15 Perception skill check reveals that "Iris of Ghastenhall" actually has a small silver ring mounted beneath the name. The same color as the plaque, the ring is easy to miss. This unimpressive piece of jewelry, clearly intended for a very small figer, has a tiny inscription 'IoG' beside an ornate rose.
The name plate of 'Ergun Nigma' or E.Nigma is actually a fake nameplate. If the nameplate is pulled it pops out. If it is turned three times to the left twice to the right and once again to the left a finely made secret safe opens. Inside are 55 pp, a ruby worth 350 gp, and a set of
manacles of cooperation.
Both of these secrets were discovered.
1-22 Smithy:
This chamber contains a forge in an almost functional state. There are bellows, a forge-fire and an anvil here all in fine shape. There is a bin for storing coal here as well,
but over the years the coal has gotten wet from leakage through small cracks in the wall. Thus the coal bin must be cleaned of the foul soupy mess that currently pollutes it. If the coal bin was cleaned and restocked and a set of smith's tools purchased in Farholde (5 gp or 55 gp for masterwork), this smithy would be perfectly functional once more. If a skilled smith were in residence, this would make work to repair traps and fine torture implements much simpler. Instead of going to Farholde for every little thing, common items could be quickly made here.
1-23 Capture Cell:
This chamber contains a cage made of stout iron bars that run from floor to ceiling. The cage was originally designed to capture those who blundered into the pit trap
in 2-1 above. Now, everything is in disrepair. The metal faux-stone pit trap cover is gone, so now there simply is a chute in the ceiling that leads to level 2 above. The lock has been broken beyond repair and so now the door to the cage simply swings open. If the trap were repaired and the lock replaced, it would be functional once again.
1-24 Prison Guardroom:
This room, once used as a guardroom, is now empty. There is a long dried spray of blood in the south eastern corner, where one of the Victor's knights ran through a soldier in service to the Sons of the Pale Horseman eighty years ago.
1-25 Torture Chamber:
Once the pride of the priesthood of the Pale Horseman, this torture chamber is now in sore need of repair. Wrecked by the Victor's men, the chamber has remained a tangled pile of neglected metal and splintered wood for decades.
Still, it could be repaired. If 1,300 gp is spent here, this room will grant a +5 competence bonus to Intimidate checks against anyone who spends more than ten minutes "sampling the wares". It will further grant a +2 circumstance bonus to Profession (torturer) skill checks. This initial skill check oftn does not involve any actual torture. Instead, it is simply necessary to strap someone
in and show them what could happen. This alone will loosen the tongues of most. For some though, threats are not enough. Actual torture is needed to extract information. In that case, the same bonus to Intimidate and Profession (torturer) still applies.
The 1,300 gp can expended up to six times. Every time the money is spent, the number of "guests" this chamber can serve increases by one. This room is not large enough to torture more than six victims concurrently. The torture equipment in this room (whether wrecked or repaired), together, weighs approximately three tons.
1-26 Holding Cell:
A stout iron door with a small barred window controls entry to this plain stone cell. The door once had a fine lock but that was smashed when the door was kicked in
by a Darian knight. A replacement lock could be bought in Farholde. Inside the room are metal rings set in the wall that could secure manacles enough to restrain either fourteen medium size prisoners or ten medium sized prisoners and one large sized prisoner.
1-27 Lower Temple:
This massive open hall with its vaulted ceilings dominates the fist level. At the west wall, a single open archway feeds from the lower courtyard (1-16) into this place of gathering and worship. Six huge columns support the place. Upon every surface are carved baroque scenes of daemons and their humanoid allies marching together to conquer in the name of the daemon prince Vetra-Kali.
-
1-27A Thone of the High Priest:
Here sits a large stone throne decorated with scenes of daemonic victory over angels. It radiates a moderate conjuration aura. At its base in small script is the nonsense word 'Yah' in Abyssal. As a note, sitting on the throne and saying "Yah" does nothing.
-
1-27B The Hidden Stairs:
This massive stone column is hollow behind two feet of stone. Inside are the hidden stairs that connect the Lower Caverns to the third level.
1-28 Acolytes Preparation Chamber:
The priests and acolytes used this chamber to don their vestments and prepare for the horrific rituals performed in the Lower Temple. It is now empty.
1-29 Sacrifice Holding Chamber:
Once this was where sacrifices intended for the grisly rites of the Lower Temple were held. Now, it is merely an empty chamber. The open archways is covered by a ragged silk tapestry. The tapestry is so soiled, it is difficult to make out the great white horse skull that adorns it surrounded by a ring of jagged daemonic iconography that loosely translates, 'All must ride with the Horsemen'.